paper no: nan1
last update: 25/05/08


NANO TECHNOLOGY
(Anti HIV using NanoRobots)

INTRODUCTION:

AIDS:

Acquired Immunodeficiency Syndrome (AIDS), human viral disease that ravages the immune system, undermining the body's ability to defend itself from infection and disease. Caused by the human immunodeficiency virus (HIV), AIDS leaves an infected person vulnerable to opportunistic infections. Such infections are harmless in healthy people, but in those whose immune systems have been greatly weakened, they can prove fatal. Our paper aims at the removal of the virus to from the RNA of the body using the nanorobots.

HIV : Human Immunodeficiency Virus

The human immunodeficiency virus (HIV), which causes acquired immunodeficiency syndrome (AIDS), principally attacks CD4 T-cells, a vital part of the human immune system. As a result, the body's ability to resist opportunistic viral, bacterial, fungal, protozoal, and other infection is greatly weakened. Pneumocystis carinii pneumonia is the leading cause of death among people with HIV infection, but the incidence of certain types of cancers such as B-cell lymphomas and Kaposi's sarcoma is also increased. Neurological complications and dramatic weight loss, or "wasting," are characteristic of endstage HIV disease (AIDS). HIV can be transmitted sexually; through contact with contaminated blood, tissue, or needles; and from mother to child during birth or breastfeeding. Full-blown symptoms of AIDS may not develop for more than 10 years after infection.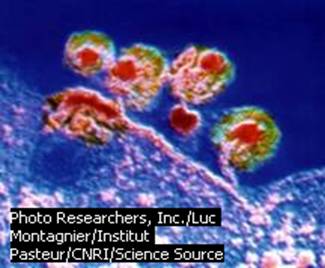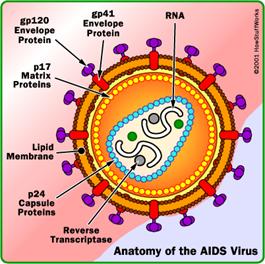 NANOTECHNOLOGY:
Nano is one billionth of one. Now we have the so- called microprocessors and microarray technology that would reach the nano level within a few decades, we suppose. Some call this technology to be nanotechnology and some others name it the molecular nanotechnology, to be specific.

REASONS FOR APPLYING NANOTECH TO BIOLOGICAL SYSTEMS:
Most animal cells are 10,000 to 20,000 nanometers in diameter. This means that nanoscale devices (having at least one dimension less than 100 nanometers) can enter cells and the organelles inside them to interact with DNA and proteins. Tools developed through nanotechnology may be able to detect disease in a very small amount of cells or tissue. They may also be able to enter and monitor cells within a living body. Miniaturization will allow the tools for many different tests to be situated together on the same small device. This means that nanotechnology could make it possible to run many diagnostic tests simultaneously as well as with more sensitivity. In general, nanotechnology may offer a faster and more efficient means for us to do much of what we do now
NANOMEDICINE:
The emerging field of nanorobotics is aimed at overcoming the shortcomings present in the traditional way of treatment of patients. Our bodies are filled with intricate, active molecular structures. When those structures are damaged, health suffers. Modern medicine can affect the work of the body in many ways, but from a molecular viewpoint it remains crude. Molecular manufacturing can construct a range of medical instruments and devices with greater abilities. The human body can be seen as a workyard, construction site, and battleground form molecular machines. It works remarkably well; using systems so complex that medical science still doesn't understand many of them.

BIOMEDICAL APPILICATIONS OF NANOROBOTS:
The enormous potential in the biomedical capabilities of nanorobots and the imprecision and side effects of medical treatments today make nanorobots very desirable . But today, in this revolutionary era we propose for nanomedical robots, since they will have no difficulty in identifying the target site cells even at the very early stages which cannot be done in the traditional treatment and will ultimately be able to track them down and destroy them wherever they may be growing. By having these Robots, we can refine the treatment of diseases by using biomedical, nanotechnological engineering.

Nanorobot designed to perform cell surgery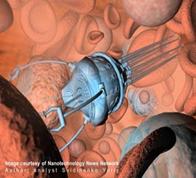 WHAT IS A MEDICINAL NANOROBOT ?
Nanorobots are theoretical microscopic devices measured on the scale of nanometers (1 nm equals one millionth of a millimeter). When fully realized from the hypothetical stage, they would work at the atomic, molecular and cellular level to perform tasks in both the medical and industrial fields that have heretofore been the stuff of science fictionNanomedicine's nanorobots are so tiny that they can easily traverse the human body. Scientists report the exterior of a nanorobot will likely be constructed of carbon atoms in a diamondoid structure because of its inert properties and strength. Super-smooth surfaces will lessen the likelihood of triggering the body's immune system, allowing the nanorobots to go about their business unimpeded. Glucose or natural body sugars and oxygen might be a source for propulsion, and the nanorobot will have other biochemical or molecular parts depending on its task.
Nanorobot in Nanoscale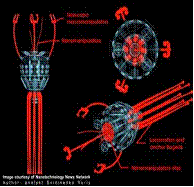 According to current theories, nanorobots will possess at least rudimentary two-way communication; will respond to acoustic signals; and will be able to receive power or even re-programming instructions from an external source via sound waves. A network of special stationary nanorobots might be strategically positioned throughout the body, logging each active nanorobot as it passes, then reporting those results, allowing an interface to keep track of all of the devices in the body. A doctor could not only monitor a patient's progress but change the instructions of the nanorobots in vivo to progress to another stage of healing. When the task is completed, the nanorobots would be flushed from the body.
Nanorobot performing operations on blood cells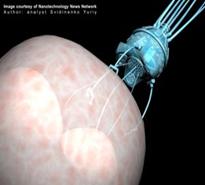 Nanorobotic phagocytes called microbivores could patrol the bloodstream, seeking out and digesting unwanted pathogens including bacteria, viruses or fungi. Each nanorobot could completely destroy one pathogen in just 30 seconds - about 100 times faster than natural leukocytes or macrophages - releasing a harmless effluent of amino acids, mononucleotides, fatty acids and sugars. No matter that a bacterium has acquired multiple drug resistance to antibiotics or to any other traditional treatment. The microbivore will eat it anyway, achieving complete clearance of even the most severe septicemic infections in minutes to hours, as compared to weeks or even months for antibiotic-assisted natural phagocytic defenses, without increasing the risk of sepsis or septic shock. Related nanorobots could be programmed to recognize and digest cancer cells, or to clear circulatory obstructions within minutes in order to rescue stroke patients from ischemic damage.
More sophisticated medical nanorobots will be able to intervene at the cellular level, performing surgery within cells. Physician-controlled nanorobots could extract existing chromosomes from a diseased cell and insert newly manufactured ones in their place, a process called chromosome replacement therapy. This would allow a permanent cure of any pre-existing genetic disease, and permit cancerous cells to be reprogrammed to a healthy state
For Further more download pdf...